Looking for a great way to update your French doors and home for the summer? French doors have becoming increasingly popular over the past few years as they make a statement of elegance and function for your home. If you already have French doors in your home, or you are thinking about installing French doors, you know that they are a great way to bring the outdoors in to utilize all the areas of your home. The one things you don't want to let in are the bugs! Here is a wonderfully designed, disappearing screen door that will look great and help you feel comfortable in your home without any flying pests!
Milano 200 Retractable Screen Doors professionally installed by Genius Screens NorCal make a fantastic addition to the design of your home.
You may have found it difficult in the past to find a screen solution for your French doors. This is largely due to the fact that French doors can swing either in or out. This is where the Genius Milano 200 Retractable Screen door can come into play. Our quality retractable screens do not interfere with the operation of your doors and can be installed on either the inside or the outside of your French door. With our Milano 200 retractable screen door, a screen is in installed on both sides of your French door and they come together in the middle with a full magnetic seal to ensure they stay closed when you want them to. Both sides of the screens can be opened independent of the other giving you the best functionality to compliment your French doors.
The Milano 200 screens retract fully out of site when not in use and can perfectly match the design and style of your home as they come in a variety of colors. Setting the standard for double retractable screens, the Milano 200 series offers low-friction smooth gliding technology, a full magnetic seal, a comfortable and easy to use handle and no snap back with our patented speed reducer!
Regardless of the size of your French doors or entry, the Milano 200 Series retractable screen door is the perfect fit!
Our happy customer in Los Gatos was thrilled to have their professionally installed retractable screen doors. The Milano 200 custom retractable screen door was the perfect match for the contemporary style of their home. We were able to match their dark brown trim with our brownstone screens, resulting in a screen door that blended beautifully and looks like it was built with the home!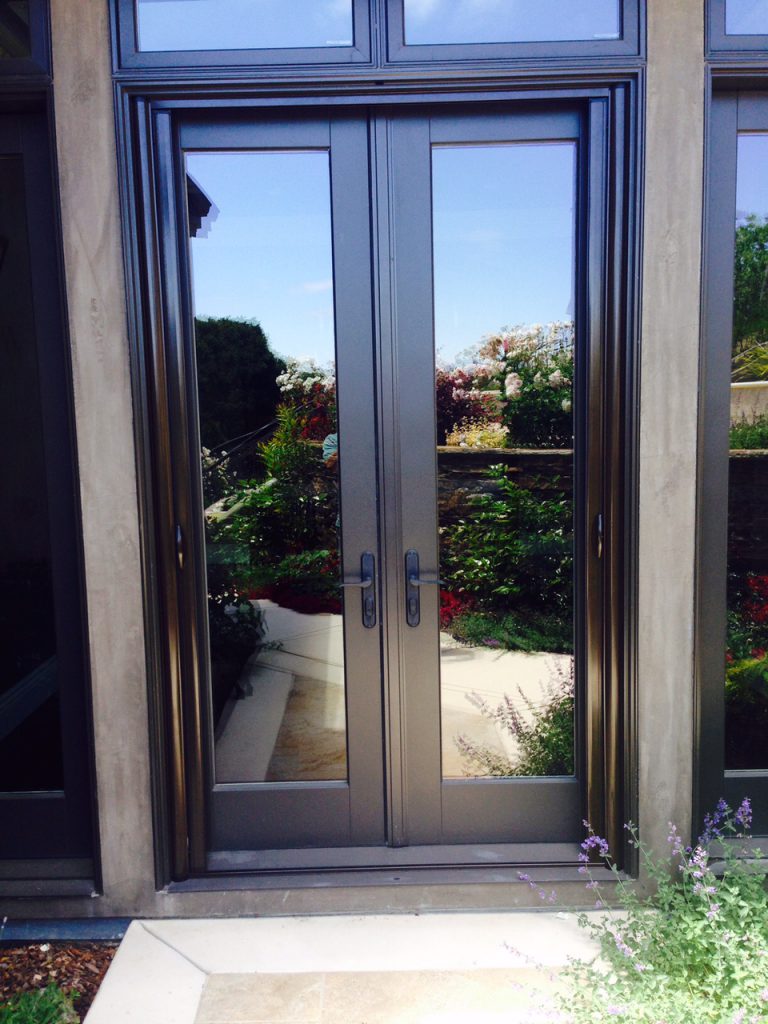 Benefits & Features of Milano 200 Retractable Screen Doors:
Custom fit for your door opening
Easy to operate
Good for any exterior in/out swing double French door
Sturdy Milano pull bar
​Locking mechanism to keep 1 door in place
Cast metal color matching adjustable height handles
Superior gliding using low friction technology
Speed reducer (brake) provides safety and controlled retraction
Full length magnetic seal
Charcoal color 18×16 insect screen fabric (other optional fabrics available)

Live in the South Bay Area or Peninsula? We offer professional and dependable installation, sometimes as soon as the next day! We install our retractable screen doors in: Los Altos Hills, Palo Alto, Menlo Park, East Palo Alto, Atherton, Monte Sereno, Saratoga, Los Gatos, Campbell, Santa Clara, San Jose (Willow Glen, Camden, Alum Rock, East San Jose, South San Jose, North San Jose), Milpitas, and Morgan Hill