As you enjoy the summer sun, do you find yourself looking at ratty, old screens that are more of a pain than a help? ZigZag retractable screen doors from Genius Screens NorCal may be the solution for you! ZigZag retractable screens are a great option when you are looking to replace and old, broken screen door. The stylish, pleated fabric (a style trend that began in Europe) and easy one-handed operation make this disappearing screen a must in any home!
Summer is officially here! Are you ready for the sunshine and cool breezes?
If you have a bi-fold, lift-n-slide or other large opening door around your home, then our ZigZag retractable screen doors are just what you have been looking for! ZigZag screens fit openings up to 16 feet wide and 8.5 feet tall, making them the perfect solution for larger French or bi-folding doors. A big difference between our ZigZag retractable screens versus regular screen doors is that you can have 1 screen panel instead of multiple interlocking panels. This allows you to have a clear, unobstructed view out your doorway or opening letting you enjoy your outdoor spaces even more. Also, you can operate the screen from both ends making the ZigZag screen even more versatile; open and position the screen in any orientation that you want! The screens have an easy, one-hand glide track that opens and closes with just the touch of a finger. Enjoy those summer barbeques and keep your home bug-free with our stylish and elegant ZigZag retractable screen doors!
Benefits & Features of ZigZag Retractable Screen Doors:
Ideal for bi-folding, lift-n-slide and other large opening doors and windows
Screen opens at either end then it can be moved and positioned
Made using elegant and stylish pleated screen fabric
Features one large screen panel to avoid breaks in your view
Screens are custom made to match the net screen opening dimension
Easy, touch of a finger operation
Openings up to 196.85" (5.0m) Wide x 102.36" (2.6m) Tall
Available in 5 frame colors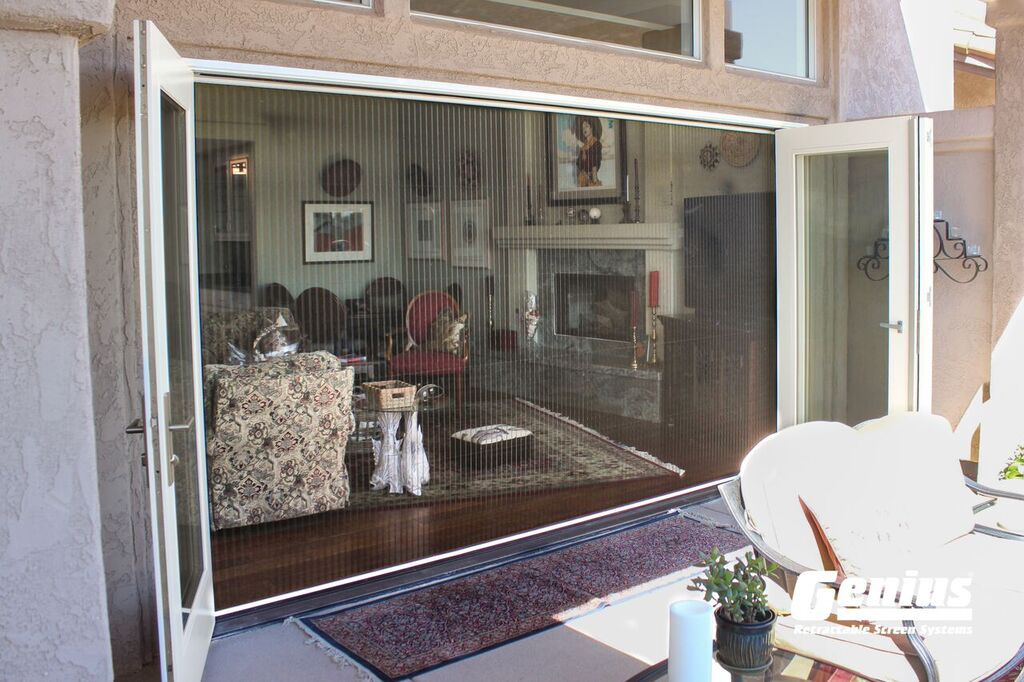 This customer had a larger opening leading to their back veranda. They loved the option of having a single retractable screen panel to keep their amazing views!
Live in the South Bay Area or Peninsula? We offer professional and dependable installation, sometimes as soon as the next day! We install our retractable screen doors in: Los Altos Hills, Palo Alto, Menlo Park, East Palo Alto, Atherton, Monte Sereno, Saratoga, Los Gatos, Campbell, Santa Clara, San Jose, Mountain View, Los Altos, Redwood City, San Mateo, Milpitas, and Morgan Hill.